ESPN #1 Player Chet Holmgren Electrify Fans At GEICO TOP FLIGHT INVITE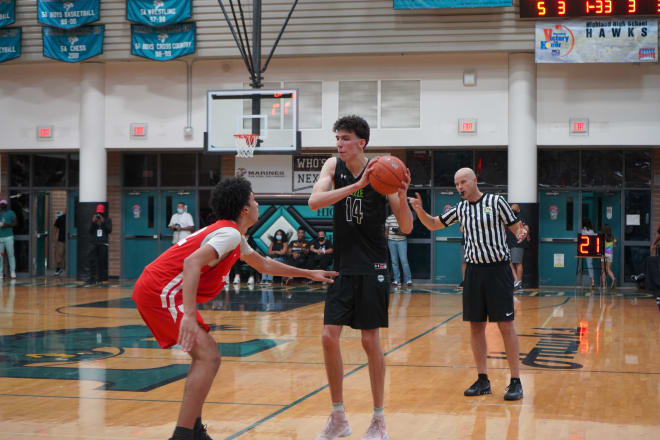 The Geico Top Flight Invite might be the hottest ticket in America this weekend. It brings in the top national talent from all over America to Gilbert Arizona culminating in an ESPN televised final on Sunday, October 25, 2020. The star-studded elite invite is led by class 2021 ESPN #1 player Chet Holmgren.
In Holmgren's first legitimate game back since March the 7'1, 200 hundred pound future, pro did not disappoint! Holmgren's Sizzle AAU team full of Minnehaha Academy school teammates took on Air Nado led by ESPN # 4 Class 2021 SG Jaden Hardy and Frankie Collins who might be one of the most athletic point guards in class 2021.
The game was a barnburner with Jaden Hardy living up to his number 4 ranking lighting up Holmgren's Sizzle with 30 first-half points and a 24 point lead at halftime. Hardy was en fuego! His performance could have been deemed legendary before Holmgren and the Sizzle shook off the rust from being dormant most of the late summer and early fall due to COVID.
Holmgren and the Sizzle quickly erased the 24 points half time deficit with a stingy defense that only allowed one basket and four free throws in 12 minutes. Holmgren electrified the crowd at Highland High School with tough baskets finishing through contact with a new frame added through intense weight training and nutrition. There is no longer the question of Holmgren's body type and strength.
Holmgren dazzled the crowd with one on one pro moves that led to monstrous poster dunks on opponents and consistent 3 point shooting during the comeback. On the defensive side, Holmgren proved he was an elite rim protector as he consistently sent mail back to the sender!
One of the most spectacular blocks was on Frankie Collins, who I must admit was a great surprise! Collins might be the most underrated player I have seen in the 2021 class. Collins exploded to the rim with amazing power and athleticism only to have his attempt blocked by Holmgren. On the night we tabulated 11 Holmgren's blocks. Holmgren ended the evening with a triple-double, 17 points, 11 rebounds, and 11 blocks in the 3 point loss.